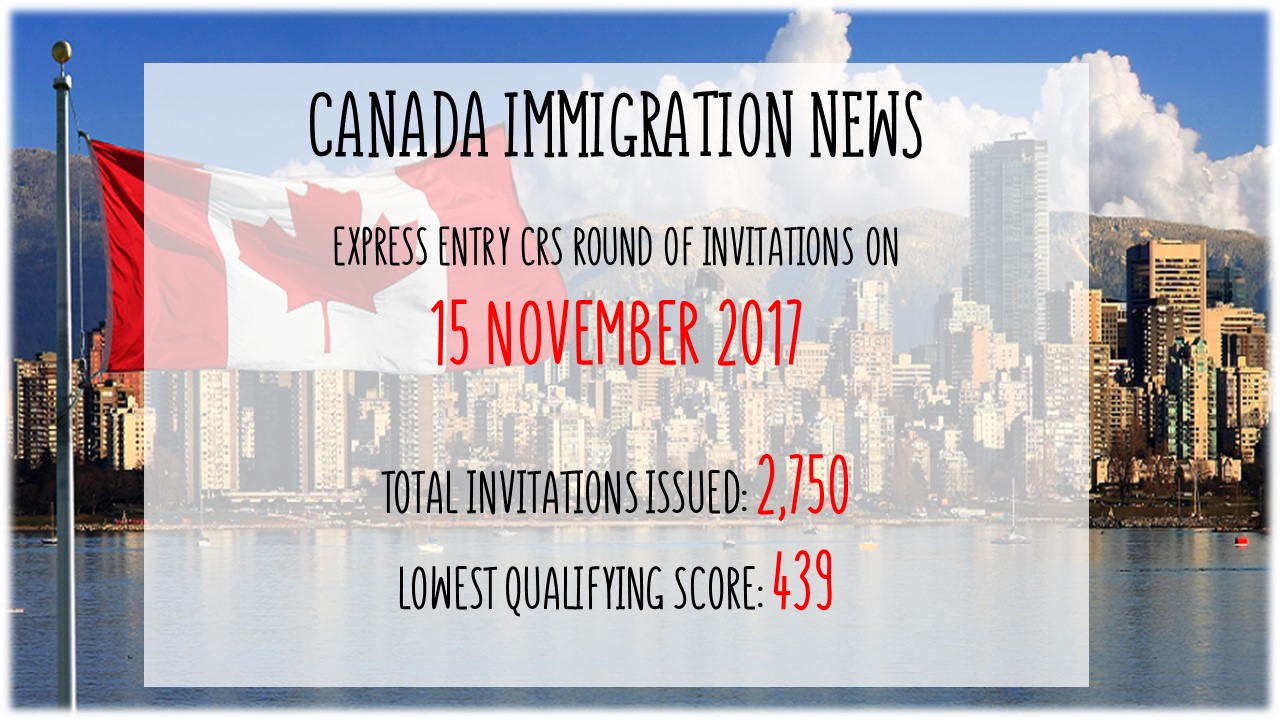 Canada
2,750 candidates in the Express Entry pool with a Comprehensive Ranking System (CRS) score of 439 and above were issued Invitations to Apply (ITA) in the latest draw that happened on the 15 November 2017 17:54:19 UTC.
Eligible foreign nationals ranked among the first of 2,750 in the general ranking received the ITA.
The Express Entry system ranks candidates in the pool by their CRS score. In case of a CRS tie, the system will then rank all tied candidates based on the date and time that they submitted their profile. This means candidates with a CRS score of 439 who entered the pool prior to a specified date and time were invited to apply. In this case, the cut-off date and time was 15 November 2017 at 15:54:19 UTC (refer to image below).

Canada announced new three-year immigration targets on 1st November. This could probably mean more frequent draws with more ITAs issued, to more candidates with a lower CRS score.
Canada plans to welcome nearly one million new permanent residents between 2018 to 2020. Applicants may by applying to programs managed under Express Entry, namely: Federal Skilled Worker Class (FSWC), Federal Skilled Trades Program (FSTP), and Canadian Experience Class (CEC). Number of applicants to be admitted are set to increase on a year-on-year basis.
Get started with your plans to secure Canada permanent residence. Email your resumes to assessment@ocscglobal.com for a complimentary eligibility assessment and we will get back to you as soon as we are able to!
Warmly,
OCSC Global
1 Scotts Road, Shaw Centre, #26-10, Singapore 228208
Email: assessment@ocscglobal.com
DID: +65 6238 0777